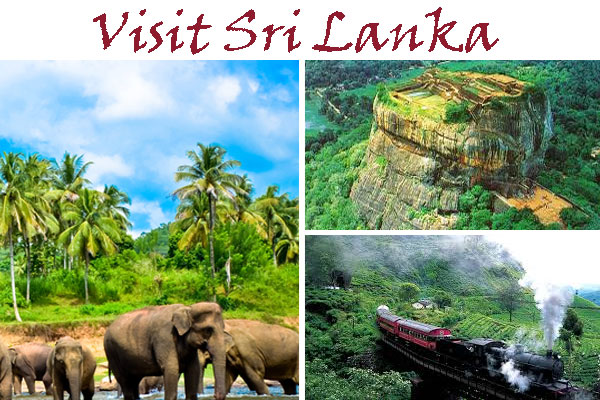 TOUR INFORMATION
Detailed Itinerary Day Wise
DAY 1 : ARRIVAL / DAMBULLA - 160 KMS – 4.5HOUR
Arrive at Bandaranaike International Airport,Katunayake met by skybird representative and transfer to hotel in Dambulla.
Pinnawela Elephant Orphanage

The centre opens at 8.30 and closes at 6pm daily. Bottle feeding is at 9.15am, 1.15pm & 5pm and bathing time at the river is at 10am and 2pm. Pinnawala (Pinnawela) Elephant Orphanage is very popular tourist attraction visited by Sri Lankan tourists as well as by the foreign tourists. Visiting Pinnawela grand opportunity to enjoy the spectacle up close a large herd of elephants interacting together. The highlight is the elephants at the bathing hours: at 10.00 am and 2.00 pm daily.
Cave Temple Dambulla
Located at an elevation of 1118 feet from the sea level rises a massive rock from the surrounding plains of Dambulla of 600 feet high and over 2000 feet in length. It is home to the Worlds most acclaimed Cave complex of magnificent Buddha Images and Rock Paintings of vivid colours and shapes constructed and painted from around 2nd Century BC (Anuradhapura era ) and continued up to the Kandyan era of the 18th Century. Sinhalese people call it as ' Dambulu Gala' ( Dambulla Rock) and the Temple is called as the ' Rangiri Dambulu Viharaya' (Golden Rock Dambulla Temple).
Dinner & Overnight stay at the Hotel in Habarana.
DAY 2 : HABARANA / KANDY - 101 KMS - 3 HOURS
Breakfast at the Hotel in Habarana and leave for Kandy. On your way you can visit Sigiriya Rock fotress.
Sigiriya
Sigiriya is an archeological site in North Central Sri Lanka. It contains the ruins of an ancient palace complex, built during the regin of King Kasyapa (477AD - 495 AD). It is one of the 7 world heritage sites in Sri Lanka and is one of it's most popular tourist destinations.
Matale spice garden
If variety is the spice of life, the variety of spices hand-reared and harvested at Matale Spice Garden must be Sri Lanka's immortal soul. Here you'll find in abundance the great scents, tastes and medicines that made and make Sri Lanka famous. Stroll around the fragrant greenery and through the cardamom groves in the shade of huge tropical trees and give your sense of smell a new lease on life. Sniff, see and learn about nutmeg, pepper, cloves, curry, cinnamon and many others at Matale, and experience the great riches of Sri Lanka's cuisine and traditional Ayurveda therapy.
Traditional Kandyan Dance
Dancers adorned with rattling anklets, elaborate beads, jingling bangles, funky headgear and colourful flowing costumes perform stunning high jumps and summersaults while drummers flank them, pounding out heart-thumping tribal rhythms. With a stage set amid the deep, lush jungle of Sri Lanka, a Kandyan dance performance captures the imagination by connecting audiences to their tribal roots.
Dinner & Overnight stay at the Hotel in Kandy
DAY 3 : KANDY / NUWARAELIYA -77 KMS – 2 ½ HOURS APPROX
Breakfast at the Hotel in Kandy and leave for Nuwara Eliya via Botanical gardens Peradeniya and Labukelle Tea Estate.
Temple of Tooth Relic
Sri Dalada Maligawa or the Temple of the Sacred Tooth Relic is a Buddhist temple in the city of Kandy, Sri Lanka. It is located in the royal palace complex which houses the relic of the tooth of Buddha
Royal Botanical Gardens Peradeniya
The Gardens date back to the Kandyan kingdom, when they were used as royal pleasure grounds. However, it was soon after the British seized the Kandyan Kingdom that they were established in 1821. The Gardens are elegantly landscaped over 150 hectares of beautifully undulating grounds. Within this large loop of the meandering Mahaweli Ganga is a spectacular display of more than 400 species of indigenous tropical flora and exotic plants
Pedro and Labookelle tea estates at Nuwara Eliya

Pedro and Labookelle tea estates afford the opportunities to get on-site knowledge on tea industry of Sri Lanka. Located 3 km east of Nuwara Eliya, beneath a flank of Mount Pedro is the Pedro Tea estate. The resident guide at the estate explains and elaborates on the process of growing and manufacturing Ceylon Tea. Labookelle Tea Estate located 20 km north of Nuwara Eliya, is set at an elevation of 2000 meters. The expansive estate is fully geared to host the visitors with a tour around property. The café is a fine place to enjoy a cup of Ceylon tea while having a slice of cake.
Ramboda Falls
Gliding swiftly down mountain slopes, thick forests and valleys of Tea Estates, small convergent brooks in the central highlands gives birth to some of Sri Lanka's most magnificent waterfalls, one of which is the "Ramboda Waterfalls" in Nuwara Eliya. Cascading down at an altitude of 3200ft. the Ramboda Falls brings pride and glory to this beautiful island making Sri Lanka a popular tourist destination for both the romantic escapee & nature lover.
Dinner & Overnight stay at the Hotel in Nuwara Eliya
DAY 4 : NUWARA ELIYA / BENTOTA - 240 KMS – 7.5 HOURS
Enjoy your breakfast at the Hotel in Nuwara Eliya and leave for Bentota
Leisure
Dinner & Overnight stay at the Hotel in Bentota
DAY 5 : BENTOTA / COLOMBO 65KMS – 2.5 HOURS
Enjoy your breakfast at the Hotel in Bentota and leave for Colombo.
Turtle Hatchery Kosgoda
Here you will find lots of information about Sri Lanka's pioneering sea turtle conservation project - why Sri Lanka (and the village of Kosgoda in particular) is a prime turtle nesting site, why the conservation project is needed and how the project is operated by local people with the help of international volunteers
v Colombo
Colombo is the commercial and business center of Sri Lanka located on west cost. The city blends together with old colonial type building, high-rise commercial buildings and hotels. It is filled with shopping malls, airline offices bazaars and interesting tourist attractions. Some of the finest structures built during the colonial times still preserved in one part of the City. Colombo is home to majority of Sri Lankan corporate and Government offices. Hotels of Colombo city is located centrally which will make the visitors more convenient. Colombo city is full of popular tourist attractions such as National Museum,Galle Face Green, Beira Lake,Cargills & Millers building, Independence Square, Viharamahadevi Park, Colombo Fort, Pettah bazaar, Beach Waadiya, Churches, Mosques and Temples of Colombo City,Railway museum and Mount Lavinia beach
Colombo Shopping
There are wide varieties of shopping complexes within the Colombo city all of them are with all the facilities. Most of the shopping malls are fully wi-fi enabled. If you are looking goods for less prices Pettah bazaar is the ideal location. You can buy almost anything you want but this is always busy and crowded. If you move along the Gall road you can find shopping malls like Majestic City, Liberty Plaza and Crescat which are very popular among locals as well. You can buy garments, handicrafts, books, leather goods and many more. Prices are very competitive. ODEL and Arina are another shopping malls which are very popular among tourists. The shops in Main Street of Pettah mostly sell readymade garments.
Dinner & Overnight stay at the Hotel in Colombo
DAY 6 : COLOMBO / KTY - 37KMS – 1 HOURS
Breakfast at the Hotel in Colombo
Leave for Katunayaka according the flight time
End of tour.
INCLUDES
Hotel 3* category
breakfast and Dinner
All sighseeing by our vehical.
Airport Pickup Drops.
EXCLUDE
Air ticket
visa charges
Other Personal Expences.